Jesus, Refugee
The recent announcement by the Trump administration to close American borders to refugees from the Middle East has sparked cries of indignation not just from American citizens but from all over the world. 
Whilst the debate rages on as to whether such measures are based on security and prudence or xenophobia and paranoia, an interesting meme about Jesus being a refugee has appeared all over social media.
The basic message of these memes seems to be that if Jesus was a middle-eastern refugee (a reference to Joseph and Mary's flight to Egypt during the infanticide ordered by King Herod), then shouldn't the Republican Party, with its Christian conservative values, be more welcoming of refugees from the Middle East instead of banning them? After all, wouldn't history have been turned on its head if Jesus' parents had been denied asylum?
There are a few responses that need to be made in this regard.
JESUS: FROM FABLE TO FACT
It is mildly ironic that the birth and life of Jesus Christ should suddenly be seen as historically legitimate by a postmodern, social media culture that is always happy to mythologise Him. From accusations of plagiarising Egyptian mythology for the virgin birth to allegations of Constantine authorising the deification of Jesus, if there's one thing that modern society agrees about Jesus, it is that He is most probably a myth.
So it's amusing to see the eagerness with which a character relegated to mythology is now resurrected as the real deal, even if it's only to gain political mileage.
JESUS, THE ISRAELI: PERSONA NON GRATA IN 16 COUNTRIES
There are as many as 16 countries around the world that forbid admission to Israeli passport holders. Given that Jesus was an Israeli, chances are He would be refused entry by these countries; refugee or not. But this doesn't seem to cause any outrage. Nobody seems to be offended by this.
Clearly, it's not Jesus' refugee status that people are concerned about. Or the fact that refugees from the Middle East are being denied entry in the US. Nobody really cares about Jesus. Nobody really cares about refugees. The real issue is half of America is hurting from the vote turned in by the Deplorables.
Anyways, moving on.
JESUS, THE ONLY WAY: HATED WORLDWIDE
Consider these statements that Jesus made about Himself.
— He claimed to be Messiah: The woman said to Him, "I know that Messiah is coming (He who is called Christ ); when that One comes, He will declare all things to us." Jesus said to her, "I who speak to you am He." — John 4:25-26
— He claimed to be equal with God: "I and the Father are one." — John 10:30
— He claimed to be the only way to God: "I am the way, and the truth, and the life; no one comes to the Father but through Me." — John 14:6
Can you imagine any country in earth that would welcome a person with such exclusivist claims? Can you imagine any Islamic country embracing Him with open arms as their Messiah and the ONLY WAY? Can you imagine Nepal, a Hindu state, opening their doors to Him and affirming His message?
Jesus was quite clear to His followers regarding the treatment they were to expect from the world at large.
"If the world hates you, you know that it has hated Me before it hated you. If you were of the world, the world would love its own; but because you are not of the world, but I chose you out of the world, because of this he world hates you." — John 15:18-19
This comes as no surprise as a study by the Center for Studies on New Religions (CESNUR) states that Christians are the most persecuted religious group in the world with about 90,000 of them killed around the world for their faith in 2016 alone. Even more staggering is the statistic that between 500 and 600 million Christians were in some way persecuted and prevented from freely practicing their faith.
So it's a bit silly to cite memes claiming to support Jesus' refugee status whilst being silent about the persecution of those who love and follow Him.
And then there's this.
JESUS, CREATOR & COMING KING — ENEMY OF THE NATIONS
The Bible teaches that Jesus is the Creator of the universe; the One who has been given all authority in heaven and on earth.
by Him all things were created, both in the heavens and on earth, visible and invisible, whether thrones or dominions or rulers or authorities -all things have been created through Him and for Him. He is before all things, and in Him all things hold together. — Colossians 1:16-17
And Jesus came up and spoke to them, saying, "All authority has been given to Me in heaven and on earth. "Go therefore and make disciples of all the nations, baptizing them in the name of the Father and the Son and the Holy Spirit, teaching them to observe all that I commanded you; and lo, I am with you always, even to the end of the age." — Matthew 28:18-20
This Creator is also the rightful ruler of the earth, against whom all nations will make war.
Why are the nations in an uproar And the peoples devising a vain thing? The kings of the earth take their stand And the rulers take counsel together Against the LORD and against His Anointed — Psalm 2:1-2
And I saw heaven opened, and behold, a white horse, and He who sat on it is called Faithful and True, and in righteousness He judges and wages war. … And on His robe and on His thigh He has a name written, "KING OF KINGS, AND LORD OF LORDS." … And I saw the beast and the kings of the earth and their armies assembled to make war against Him who sat on the horse and against His army. — Revelation 19:11,16,19
Truth is, Jesus is more than just a dark-skinned, homeless, middle eastern guy as portrayed by social media memes. He is not only the Creator of the universe, He is also its rightful King. And every country on the map, America included is in rebellion against Him.
Not because of politics or refugee policy. But because they simply refuse to bow their knee to the One who is sovereign ruler over them.
So, to state it plainly, there is no country on the planet that would welcome the true Jesus were He to visit their borders today. Sure they are quite happy to misrepresent his true identity and pretend that they accept him. But that's just eyewash. Truth is, every nation on the planet is in rebellion against Christ.
But let's set the nations to one side. What about you? Would you welcome Jesus as your King and master?
If you don't then you stand accused of treason of the highest order. Because you have failed to acknowledge the rightful rule of the King of the universe. Your punishment has already been passed in the courtroom of God and you are but awaiting the day of your execution.
JESUS, SAVIOUR — HOPE OF THE NATIONS
The incredible truth about this King is not just His authority and majesty but also His humility. Because He chose to lower Himself in order to take on the form of the humans He created. And He chose to die for those who were rebels against His sovereignty.
The King of the universe, hated by His creation, sacrifices His own life so that those who hate Him can be forgiven and can be granted everlasting life.
while we were still helpless, at the right time Christ died for the ungodly. … while we were enemies we were reconciled to God through the death of His Son … — Romans 5:6,10
Can you imagine that? But it gets even better.
If you believe that this King died in your place so that you can be forgiven of your treason, then not only is your pardon guaranteed, you get to be a co-regent with Him! How awesome is that!
For you have not received a spirit of slavery leading to fear again, but you have received a spirit of adoption as sons by which we cry out, "Abba! Father!" The Spirit Himself testifies with our spirit that we are children of God, and if children, heirs also, heirs of God and fellow heirs with Christ — Romans 8:15-17
So whilst the memes present only one part of the story about Jesus, we hope you will consider all the facts about Him. What's more, we hope you will treat Him, not as a piece of political convenience, but as the One who has rightful and authority over your whole life.
Yours truthfully,
Truthscan
Note: All comments left on this blog will serve to debunk the idea that "Perception is Reality". Here's why.
Some other posts in this category you might find interesting: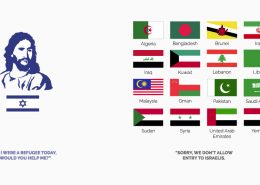 https://www.truthscan.com.au/wp-content/uploads/2017/01/Jesus-No-Entry_FB.jpg
525
1000
admin
https://www.truthscan.com.au/wp-content/uploads/2015/12/Truthscan_Wordpress-2.jpg
admin
2017-01-31 00:09:30
2017-01-31 06:20:01
Jesus, Refugee